Need wrap sleeving that is versatile and easy to install, yet still tough and durable enough to last in your industry? We have the product for you.
Saylor's Self-Closing Wrap (SSCW) is an innovative approach to self-closing wrap sleeving. A polyester multifilament and polyester monofilament sleeving, SSCW is designed to offer wires tough and durable protection. SSCW is a leading protector of a wide variety of different cables and machines, and can be used for wire harnesses, automatic equipment, railways, and general manufacturing.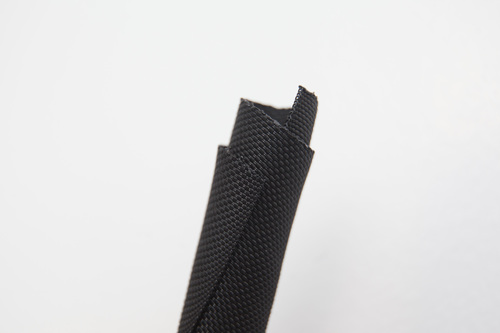 Designed to wrap through an entry split, this sleeving allows for easy installation on wire or cable accessories. It's often applied where terminals or connectors are already attached (we're trying to make your life easier in any way that we can).
SSCW is tough, durable, versatile, and easy to install. It doesn't get much better than that.
SSCW comes with a multitude of great features. It fights abrasion and offers excellent wear resistance, so it will help machinery and other products last longer and work more efficiently. Additionally, SSCW has been rated for continuous service in temperatures ranging from -50˚C (-58˚F) to 150˚C (302˚F). An added measure of protection, SSCW is self-extinguishing in the chance that a fire does start. The wrap is halogen free and RoHS approved.
Saylor Self-Closing Wrap is offered in diameters of 1/4" to 2" and is available in standard black and white. If you're looking for something a little more fun, or have different color needs, a range of other colors (including fluorescents!) is available, depending on minimum purchase order requirements.