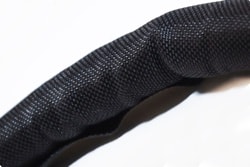 Our braided monofilament sleeving is a tightly woven sleeve which provides exceptional abrasion resistance and provides solutions where cables and hoses are exposed, such as cable assemblies and automotive applications. Braided sleeving generally has the greatest expandability and flexibility of many of the various sleeving types and is often used when managing bundles of wires over a long length is necessary. The wide expandability of our braided wire protection sleeves makes installation over existing plugs and connectors possible and when properly matched to your application, will provide a secure and protective covering.
Additionally, our electrical wire protection generally has the widest choices in colors and diameters, making it the preferred choice when immediate identification of wires or managed bundles is necessary.
At Saylor Technical Products, we are committed to the quality and service our longtime customers have come to expect. Call (419) 832-2125 to check inventory of our lightweight wire sleeving or to learn more about our innovative sleeving solutions. To view additional product details and specifications, click here.