High Temperature Sleeving / High Temperature Yarn / Flame Protection
SAYLOR 3000 line of protective sleeving is the high performance choice over using heavy, bulky, and expensive alternatives. Our first product, Quantum Flex, is creating quite a "buzz" in the industry of flame and heat protection. The Saylor Quantum Flexproduct is lightweight, utilizing high temperature yarns and specifically designed for applications where temperatures as high as 3000°F may be encountered. Our Saylor 3000 line of protective heat sleevings is the answer for applications in need of high temperature cable insulation. The product is pending UL Approval and is the product customers need for heat resistant sleeving.
No other heat resistant sleeving is designed to work at such high temperatures, provide the protection, and security in the industry. Saylor 3000 sleeving will maintain its properties and do the job in harsh environmental applications.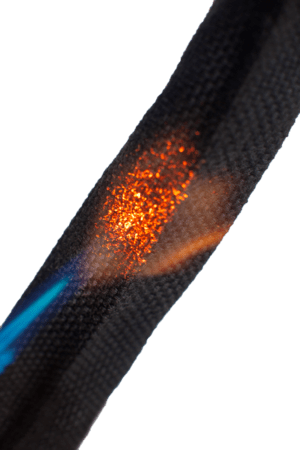 Saylor High Temperature Sleeving

Saylor 3000 is the premier sleeving product for fire and heat resistant applications. Saylor 3000 is the answer for high temperature wire insulation. Saylor 3000 is designed to be cost-effective, lightweight, and flame resistant. Our high temperature Saylor 3000 yarn is perfect for those industrial, commercial, lighting, aircraft and automotive solutions around the world.
The Saylor 3000 High Temperature Sleeve Advantage
very high LOI (Limiting Oxygen Index)
will not melt – flame resistant
low shrink – 0% at 1250°C (or 2282°F) for up to 30 seconds
unsurpassed heat dimensional stability
non-conductive
excellent chemical resistance
light weight
The heat treatment applied during production gives the high temperature sleeves non-fraying properties that make it ideal for applications where short lengths are used. The heat resistant sleeve provides superiors resistance to ultra high temperatures.
At Saylor Technical Products, we have the ability to produce high temperature wire and hose protection and security solutions that meet our customer's specific requirements.